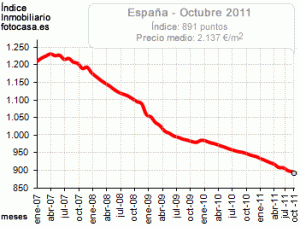 According to this article house prices have dropped 6.4% in October, compared with October 2010. The overall price-index, with 1000 as a base for 2005, now stands at 891.
That would imply a price drop of only 11%. If you take the market high in 2007 however, prices have fallen roughly 28%.
The medium price now stands at 2137€/m2.
Conversely, if we now look at this article,  just published in the well known newspaper El Pais, we get an entirely different set of data. They set the average price at 1729€/m2 compared to the 2137€/m2, as in the previous article, but inconsistently speak of a price drop of 17% from the high.
Our own anecdotal evidence seems to suggest that median prices have fallen roughly 30% from their peak. Obviously, that varies quite a bit from region to region. ( Marbella proves right the old adage: location, location, location! )
The big question now is: have we seen the last of the price drops?
It's no secret that the banks play an especially vital and scary role in this housing debacle. They are stuck with enormous amounts of non-performing loans to the construction industry and the promoters. So far they have only written down 15% of them, while 50% would be more realistic.
Moreover, they have to cope with an "official" delinquency percentage of 17% on mortgage loans to the private sector.
In practice this means that banks largely own the roughly 1 million unsold houses and nobody knows how many square meters of building and rustic land.
It's also known that banks go out of their way to keep people in their houses, despite delinquent owners.
The reason is that the banks cannot afford to be tough on their customers, because that would mean taking the write-downs instantly. The result would be massive insolvency of banks throughout the country.
So this policy has been a brake on even more drastic price drops. That leads to the next logical question: how long can they keep up this play?
Our estimate, from looking at the rate the European debt crisis is spreading and interest rates for the weaker countries are rising, is that in 2012 we will see quite an extensive restructuring of the Spanish banks. It will force them to masssively dump their stock of houses.
That will present golden opportunities for patient and liquid investors and could turn the Spanish housing market into an incredible steal.