Recently Spain got back on the radar of investors when an auction of government bonds failed to attract enough attention, forcing the yield up to almost 7%. In light of the yield on German bonds of less than 2%, this means that the financial market is seriously doubting Spain's ability to make good on its loans.
If you add together all debts: government debts, corporate debts, financial institution debts and household debts, Spain is even more indebted than Italy, who saw it's interest rate rise to over 7% last week. Spain's total debt now stands at 363% of GDP against 313% for Italy.
These kind of debt levels are certainly not an exception but once borrowers are unable to properly service their debt, then the situation gets out of control.
According to the Bank of Spain the Spanish banks have a total of € 308 billion loans to real estate companies on their books, of which at least 50% are in big trouble. Moreover these banks have 7,21 % of non-performing mortgage loans which is draining their reserves. (Reuters) To make matters even worse banks hold about € 31 billion of unsellable real estate.
So far the domestic Spanish banks have written off 30% of all these assets. Were they to be valued truly, market to market, the banks would at least have to double their write-offs, rendering them instantly insolvent and in need of extra capital.
How did they come into this mess? The graph, shown below, sheds some light on this debacle: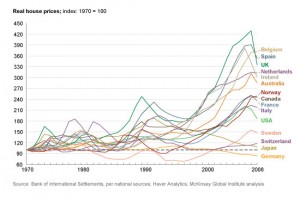 As you can see the real estate mania was not confined to Spain alone. The difference for countries like Spain and Ireland is that too big a part of the economy depended on the construction business.
Once the crisis of 2008 and the extremely run-up prices drove buyers away, Spain got stuck with an overhang of 1,500,000 houses. At the current speed of sales it will take until at least 2015 to get rid of them, according to consultant RR de Acuna.
What is not helping in this process of destocking, is the reluctance of banks to lower prices to market value. They desperately want to avoid damaging their balance sheets any further and are supported in their effort by cheep loans from the government and the ECB.
This unwise attempt to prohibit market forces to do their work ("creative destruction"), is only making matters worse. Scarce capital is being used to keep insolvent banks alive in hopeless expectation that future growth will save the day.
In the meantime a big part of this overhang deteriorates rapidly as a result of the lack of maintenance. The longer they wait the more lopsided the banks become. Debts keep accumulating while their assets depreciate in value.
In other places in the world, like Miami, where markets were allowed more freely to establish a new equilibrium between demand and offer, excess supply of houses was cleaned out rapidly.
If the price is right there is plenty of money around looking for investments. Spain still has a lot to offer as ideal tourist and retirement destination with its wonderful climate and state of the art infrastructure.
Blocking attractive lower prices just to prevent the bankruptcies of already doomed banks will prove to be very counterproductive.
Quickly getting rid of a big part of the overhang will do wonders for the local economy and could even restore the balance of payments of the overall Spanish economy, making the country less depended on foreign financing.